Dog Walking & Pet Sitting Service Area
More than 1M residents live in our service area – we have the broadest reach of any locally-owned pet care company.
"Highly recommend! We were anxious about starting a new service, but (pack&pride) came highly recommended. Our dogs were very happy when we came home!"
Note: This information pertains to dog walking and pet sitting. For mobile grooming service area, please click here.
Raleigh
Our service area includes all of Raleigh inside the 540 beltline. This includes neighborhoods such as Avent Ferry, Boylan Heights, Brentwood, Bridgewater, Brier Creek, Cameron Village, Country Club Hills, Crabtree, Downtown, Edwards Mill, Five Points, Glen Eden, Glenwood & Glenwood South, Hedingham, Inside Wade, King Charles, Lake Boone, Lassiter Mill, Longlake, Meredith Woods, Mordecai, North Hills, Stonehenge, North Ridge, Oakwood, Oberlin, Umstead, and Wade.
Cary
Our service area includes all of Cary east of 540. This includes Carpenter, Downtown, Highcroft, Kildaire Farms, Lochmere, MacGregor Downs, Preston, Regency, and Wellsley.
Apex
Our service area includes all of Apex east of 540.
Morrisville
Our service area includes all of Morrisville east of 540.
Durham
Our service area includes portions of Durham south of I-85, west of NC-147, north of I-40, and east of US-501. This includes much of downtown, Ninth Street & Duke, Research Triangle Park, Rockwood & South Square, and Southpoint.
Holly Springs & Fuquay-Varina
Our service area includes portions of Holly Springs and Fuquay Varina east of NC-55 and north of NC-42.
Garner
Our service area includes portions of Garner west of I-40.
Wake Forest
Our extended service area includes portions of Wake Forest within approximately three miles of the intersection of US-1 and NC-98. Wake Forest visits are subject to an extra fee of $6 per visit.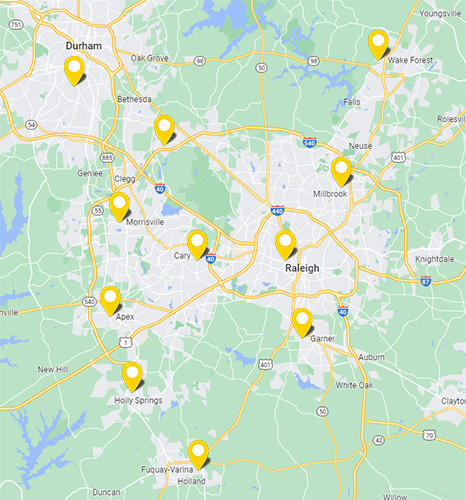 Live Outside Our Service Area?
We still may be able to help – depending on a number of factors including your pets, desired schedule, travel dates, etc. Please call 919-525-2120 for more information and rates.
Have Questions? Please give us a call at 919-525-2120.
We're a family-owned small business located in Raleigh and serving most of the surrounding Triangle area. More to the story.
Open 365 Days A Year
From 7am to 10pm
3302 Glen Henry Drive
Raleigh, NC 27612