We're proud to be a locally owned and operated full-service pet sitting and dog walking company.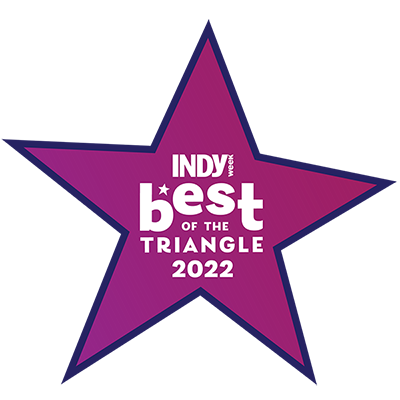 pack&pride is the brainchild of Alex Fowler and Amanda Oliver – pet owners (two beagles, Frances and Faye), parents of three daughters, and experienced pet sitters with 25 years of combined expertise caring for pets in and around Raleigh. We're fully insured and members of the National Association of Professional Pet Sitters. We started life as Oak City Pet Sitting, but have grown beyond Raleigh and have rebranded our business to pack&pride in early 2021.
What makes us special
Quite simply – we're a family-run small business that's the perfect size. Big enough to have policies, quality control standards, and redundancies that make us reliable; and small enough to have a personal connection with each and every client. We are relentlessly driven to delight customers and continuously improve our operations each and every day.
Our approach to customer service
We hate to say no. We believe in fair pricing. We have the largest service area of any locally owned pet sitting firm. And most importantly, we take the stress out of worrying about your pet(s) while you're at work or away. The kind words we routinely get from customers and our five star rating on Yelp!, Facebook, and Google show that we're committed to 100% customer satisfaction.
Using technology to stay connected
We love technology and use it to make clients' lives easier. We use the industry-leading Time to Pet platform, which handles all of our scheduling, invoicing, and visit reports. Clients have their choice of email or text notifications after each visit.
Amanda Oliver – Raleigh
Alex Fowler – Raleigh
Cyerra Banks – Raleigh & Garner
Kimberly Fowler – Cary & Raleigh
Kaitlin Fowler – Cary & Raleigh
Melissa Freeman – Cary & Apex
Laura Fenley – Holly Springs, Apex, Cary, Fuquay-Varina
Deborah Mooney – Raleigh
Wendy Cortez – Durham
Sam Marting – Raleigh & Garner
Kodee Langdon – Raleigh, Cary & Garner
Hannah O'Brien – Cary, Apex & Raleigh
Sadie Jordan – Cary, Apex & Raleigh
Regina Hernandez – Raleigh
Harmony Vick – Raleigh
Claire Hann – Cary, Apex & Holly Springs
Why Hire pack&pride?
We have 20 years of experience, are fully insured, members of the National Association of Professional Pet Sitters, and five-star reviewed on Yelp, Google, and Facebook – to name a few. More than that, we're also pet parents ourselves – so we understand firsthand the need that a trusted pet care partner fills.
Above all else, we strive to provide the highest level of service, be fair, and treat each customer how we'd like to be treated.
Have Questions? Please give us a call at 919-525-2120.
We're a family-owned small business located in Raleigh and serving most of the surrounding Triangle area. More to the story.
Open 365 Days A Year
From 7am to 10pm
3302 Glen Henry Drive
Raleigh, NC 27612