Dog owners in Raleigh, Cary, Durham, Apex, Wake Forest, Holly Springs, and beyond love mobile grooming for the convenience and safety. Our groomer comes directly to your home and focuses entirely on your pet, eliminating the need for you to transport your pup(s) to and from the grooming salon while doing away with drying cages and inattentive groomers.
"Whenever we go out of town (pack&pride takes) care of our crazy house full of animals. They're affordable and go above and beyond for their customers."

Your pup will enjoy a one-on-one spa experience in our dog-friendly mobile salon, featuring:
Climate control
Hot and cold water
Full sized tub
Hydraulic grooming table
Forced air dryer (no drying cages)
Central vacuum
Small Breeds (0-25 lbs): $95 to $125
Medium Breeds (25-50 lbs): $115 to $145
Large Breeds (50-75 lbs): $135 to $165
Giant Breeds (75+ lbs): $155 to $185
Small Doodles: $125 to $155
Medium Doodles: $145 to $175
Large Doodles: $165 to $195
Giant Doodles: $185 to $215

Have a dirty dog that doesn't need a full groom? We can help with that too! 
Small Breeds (0-25 lbs): $75+
Medium Breeds (25-50 lbs): $85+
Large Breeds (50-75 lbs): $95+
Giant Breeds (75+ lbs): $110+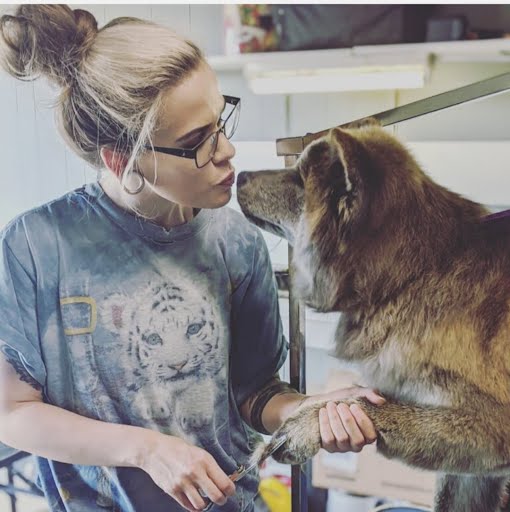 Miranda Long, Director of Grooming
As an expert dog groomer with 10 years of experience, Miranda has become a trusted partner for her clients in the Piedmont and Triangle areas of North Carolina. She received her training at Nanhall Pet Spa School of Grooming and has developed a keen eye for detail and a passion for providing excellent customer service. She takes pride in making sure that her furry clients are comfortable and happy during their grooming sessions.
She is a true animal lover and treats each dog with the utmost care and respect.
Service Area
Our service area for mobile grooming differs slightly from our service area for pet sitting and dog walking. Our grooming services are generally available in:
Raleigh
Durham
Cary
Chapel Hill
Apex
Morrisville
For customers in other communities (including Wake Forest, Holly Springs, Knightdale), we may be able to offer grooming services at an additional cost.
Cancellation Policy
Grooming appointments cancelled with less than 96 hours (four days) notice will be charged 50% of service fee. Grooming appointments cancelled with less than 24 hours notice will be charged 100% of service fee.
Payment Policy
We accept credit card, debit card, and Venmo payments.
For new customers, we require a deposit of 50% when booking a grooming appointment, with the balance due upon completion of grooming service.
If you have a saved credit card on file, it will be charged automatically.
Gratuities are always appreciated, but never expected. 100% of tips are given to the sitter(s).
Have Questions? Please give us a call at 919-897-8984.
We're a family-owned small business located in Raleigh and serving most of the surrounding Triangle area. More to the story.
Open 365 Days A Year
From 7am to 10pm
3302 Glen Henry Drive
Raleigh, NC 27612