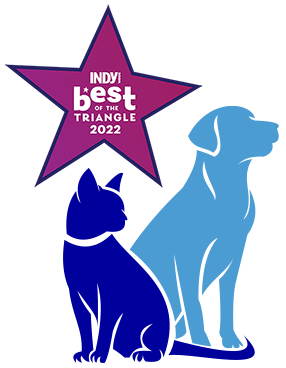 pack&pride
Dog Walking &
Pet Sitting
Thanks for checking us out! pack&pride is the Triangle's most affordable and reliable pet care provider. We're big enough to handle virtually any request and small enough to treat clients like family. Take a look at our services and prices, and submit a request a for more information below.
While you're away, we'll provide top-notch to your pet(s): providing food/water, administering any non-forcible medication, playing or exercising, and giving as much affection as your fur people can stand.
10 minute visit (cat only): $15
15 minute visit (cat only): $20
30 minute visit: $22
60 minute visit: $35
Overnight sitting: $80
Live-in sitting: $110
Stuck at work? We can help with dog walks to give your pooch(es) some one-on-one exercise. No group walks – all walks are booked for single household only. Discounts for regularly booked walks are available.
15 minute walk (M-F only): $20
25 minute walk: $22
55 minute walk: $35
55 minute training walk: $65
Need help with transporting your pet to the vet or groomer? Need a bag of dog food or cat litter? We can help!
Please contact us for pricing
Get More Information
Please fill out the form below, and one of our staff members will follow up with you. For faster service, you can call 919-525-2120 during regular business hours.
Have Questions? Please give us a call at 919-525-2120.